Buying a REIT is always more profitable than a condo – at least this is according to a study published by Macquarie Capital Markets Canada Ltd. and discussed in the Globe and Mail last week. For many real estate investors, it's a surprising conclusion, so let's dig deeper.
First, here are Macquarie's assertions, where they highlighted the returns of two REITs in Calgary and Toronto:
The performance gap was largest in Calgary, where Boardwalk REIT (BEI.UN-T) returned 16.3 per cent last year, compared to a loss of 2.8 per cent on the equity in a typical condo. In Toronto, Canadian Apartment Properties (CAP) REIT (CAR.UN-T) returned 29.6 per cent, compared to 11.3 per cent for the condo investment.

The one-year results were no fluke. The firm also looked over the past three years, and found that owning apartments through the stock market beat owning a condo in every period but one.
Macquarie's Methodology
Consulting the stock figures for Boardwalk and CAP REITs in Google Finance between April 1st, 2010 and April 1st, 2011, it does sure seem like an open and shut case:

Note: "GSPTSE" is the Standard & Poor / Toronto Stock Exchange Composite index. We use this as a frame of reference.
The figures remain rosy for 2009 and 2008 as well. However, why did the Macquarie study only focus on performance figures for the past three years? What happens if we look back at, say, four years? April 1st in 2007 was a Sunday, so let's wind the clock back to Friday, March 30th:

The returns are now a stark contrast. If you had purchased either REIT in April 2007, your return today for Boardwalk and CAP would be 5.7% and -11.4% respectively. In this timeframe, both REITs are now performing worse than the TSE index.
What if you had purchased a condo in March 2007 instead? Macquarie compares REIT performance against a hypothetical 900 square foot, 2 bedroom condo with a parking space and small balcony. There are no details regarding the condo's location or other amenities. For the sake of comparison here, we'll use our Realti.ca neighbourhood market data engine to visualize the median sale prices of all condominiums sold in Toronto's densest condo locale – downtown Toronto west of Yonge and south of Bloor – in the past four years: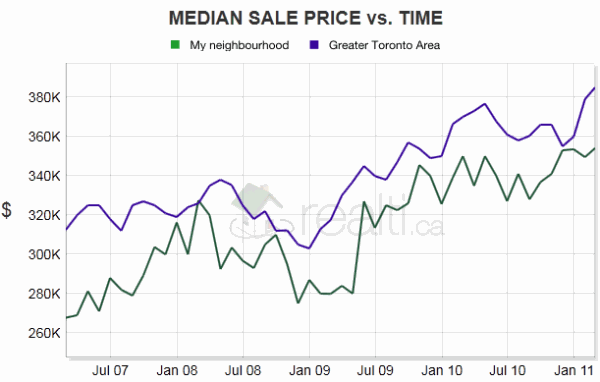 Comparing March 2007 with March 2011, aggregate condo prices have risen 32%. While we cannot speak for Calgary, in this instance it looks like a Toronto condo was the best performing investment vs. the Boardwalk or CAP REIT. However, depending on the time frame you choose, these two types of investments will frequently switch places.
REITs vs. Condos
A Real Estate Investment Trust (REIT) is like a mutual fund – you own part of an underlying asset. With a mutual fund, the asset is an interest in a group of companies; for an REIT, the asset would be an interest in several real estate properties. A condo is a single investment that has property management implications – you have to collect rent, fix any leaky faucets, and so forth. With a REIT, you don't have to worry about this. You are just interested in the outcome.
That said, as a mere REIT shareholder, you have little control over the management of the asset. As a condo investor, you can handpick the location, the building and unit you wish to invest in. You can choose to renovate the unit to improve its resale value. You can vote for and nominate members of the condominium's board, and analyze their annual budget.
In the end, both REITs and investment properties are potentially lucrative assets in one's financial portfolio. Like all securities, there are a lot of REITs that have terrible returns, and there are condos that people have made money on – and vice versa. We recommend that first-time investors should consult their financial planner, accountant and/or Realtor® before making a decision. And, as always, historical performance does not necessarily indicate future returns.
Read the original article in The Globe and Mail.